Handcrafted birchbark canoes by Tom Byers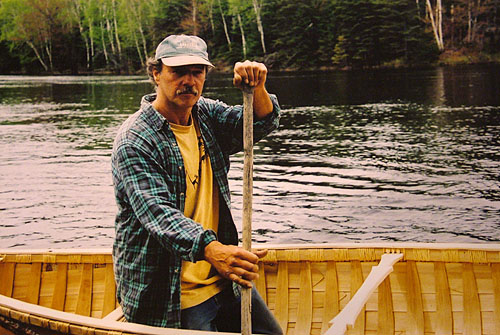 Tom Byers
1518 Grassy Lake Road
Whitefish, Ontario, Canada
P0M 3E0
About Tom Byers
Tom Byers is Mιtis and grew up along the St. Lawrence seaway in Canada, the historic heartland of the fur trade era. He has always lived near water.
Since 1994, he has honed the craft of birchbark canoe making on the banks of the Vermilion River in northern Ontario near Killarney Wilderness Park.
Tom's canoes have literally traveled the world including Hawaii, Florida, Montana, Wisconsin, Ohio and throughout Canada.

For example, in 1998, Tom built with Ian and Sally Wilson a 17-foot Algonquin canoe for their epic 1,600-mile canoe adventure following the path of the voyageurs through northern Canada, which was documented in their book Wilderness Journey.

In 2002, two Norwegians used a 16-foot Chippewa birchbark canoe built by Tom on a 30 day paddling expedition on the Thelon River, Northwest Territories.

If you have attended a fur trade reenactment in the northeastern U.S., you may have seen one of Tom's Abenaki canoes on the water.
Tom's passion for canoe building has made him one of the premiere birchbark canoe makers in North America.

Ever since he saw a birchbark canoe built by the late Patrick Maranda hanging from the rafters of a local shop, he has kept the tradition alive.
Unsurprisingly, his lifestyle reflects the way he works.

Tom Byers lives in a small hand-hewn log cabin with no running water, no electricity and no telephone.

His craftsmanship embodies the values of man working with nature.
Balance • Harmony • Perfection
Canoes
For those who have always dreamed of paddling an authentic birchbark canoe, need a gift for someone special or just want to play, two are available (in choice of styles):
• One Person Canoe
12' Length
$4,499.00 U.S.

• Two Person Canoe
15' Length
$5,499.00 U.S.




---

You can customize your canoe with the following features:

• Special lacing




• "Winterbark" hulls
or side panels, and
decorative motifs





• Plank seats





• Hand carved paddles
Tom Byers also builds to specification reproductions of tribal styles or fur trade canoes
for the discriminating collectors, museum replicas or for historical re-enactments.
---
One on One Courses
One on One courses are available starting at $1800.00 U.S.,
which take about 7 to 10 days and you keep the canoe.
Contact
Tom Byers
1518 Grassy Lake Road
Whitefish, Ontario, Canada
P0M 3E0
Phone: (705) 929 4299
E-mail: tom_byers@hotmail.com